A generation ago, white-tailed deer were a rare sight in the suburban forests of Northern Virginia. Today, it's no surprise to spot a few browsing in a neighbor's garden. Beautiful as they are, the deer we often glimpse on the edges of parks and bike trails these days are a sign of an ecosystem out of balance and in decline.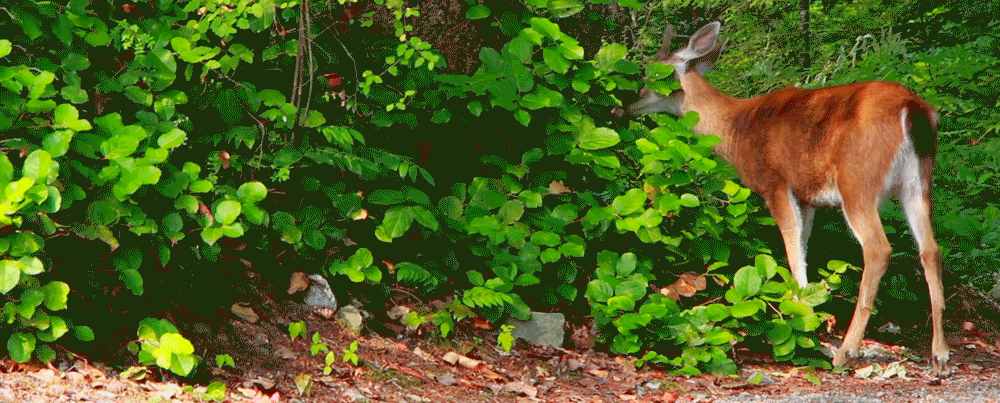 A single deer eats more than five pounds of shrubs, leaves, nuts, seeds and other vegetation every day. A square mile of healthy forest can support about 15 to 20 deer eating at that clip. Above that, the forest starts to lose its ability to regenerate.
A growing body of evidence indicates that deer populations have crossed that threshold and are endangering the future of forests across the eastern United States, including in the Arlington region.
Especially vulnerable to deer browsing are low-growing native plants that provide food and shelter to insects, birds and other wildlife, leaving "an impoverished environment," as described by the Virginia Native Plant Society.
Songbirds like the Eastern towhee, wood thrush and brown thrasher can't build their nests or find food for their young. Mammals and amphibians can't hide from predators.
Oak saplings – a deer favorite – don't survive to replace the current generation of canopy trees. And there's less plant material on the ground to absorb rainfall, allowing excessive runoff into the Chesapeake watershed.
Lacking predators to keep their numbers in check, deer in these suburban forests are destined to continue growing in population until stopped by famine or disease. In fact, density is believed to be contributing to the spread of fatal chronic wasting disease (CWD) among deer in at least 24 states, including Virginia.
A future without forests?
Deer overpopulation is recognized as a threat to long-term forest health throughout the eastern states by federal land management agencies including the National Park Service and the U.S. Forest Service.
In 2019, researchers for the Park Service and the University of Maine analyzed seedling data for eastern forests and found a severe deficit of young trees from northern Virginia through Massachusetts. Deer overpopulation, invasive plants, and human land modification were the main causes. Although the impact may not yet be apparent, the diminishment of our forests has already begun.
"A forest can appear viable based on a healthy adult population, while closer examination suggests that the adult population is unlikely to be replaced due to insufficient juveniles (regeneration failure) or different juvenile species composition (regeneration mismatch)," the researchers wrote.
Trees in cages
ARMN members who volunteer to restore natural habitat in our regional public parks have seen firsthand the imbalance caused by too many deer. Our suburban forests are dominated by a few native species that deer don't find appetizing, like Spicebush and Pawpaws, and lots of harmful exotic invasive plants that deer won't eat.
Early attempts at habitat restoration were frustrated when overabundant deer devoured the large native plantings. Volunteers have learned to protect native trees and shrubs, typically by surrounding each one with a sturdy deer-proof cage. That is not a sustainable approach for large-scale reforesting.
ARMN helps maintain large deer-proof fenced areas, called exclosures, at three local parks: Gulf Branch and Long Branch nature centers in Arlington and Dora Kelley Nature Park in Alexandria. Over time, the exclosures will provide evidence of the impact of too many deer on the forest floor.
Changing times
Deer numbers in Virginia were once so low, state wildlife officials imported them from nearby states to satisfy hunting needs. For decades, through the 1980s, management efforts focused on keeping the deer population strong.
But that approach took a turn in the 1990s in response to an explosive increase in deer, especially in the suburbs, where deer-friendly landscapes and a lack of predators led populations to spike.
"Today, deer management objectives have changed to control and stabilize populations over much of Virginia," the state Department of Wildlife Resources explains on its website.
Deer management in the region
Local jurisdications in Virginia and Maryland began implementing their own deer management programs in the 1990s in response to degradation of natural habitat as well as traffic accidents and resident complaints.
Most programs use trained civilian hunters and/or public safety sharpshooters to cull deer, using established protocals that ensure the safety of residents. No safety incidents have been reported from these programs.
Restoring balance improves forest health
Parks that actively control their deer populations have seen an increase in forest understory and native tree saplings that point to a more sustainable future.
Resources for more information
Virginia Department Game and Inland Fisheries Deer Management Plan
Restoring Balance: White-tailed Deer Management in Northern Virginia (Double-sided brochure; set printer to borderless setting)
Full 2021 Arlington County deer survey
Restoring Balance: White-tailed Deer Management in Northern Virginia An ARMN flyer designed to be a double-sided printed document. Set your printer to borderless printing.